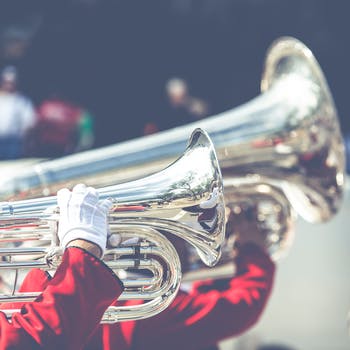 "For the Lord himself shall descend from heaven with a shout…with the trump of God." –1 Thessalonians 4:16
It's been said that Winston Churchill planned his own funeral. He picked the hymns, the scripture reading, and the Anglican liturgy that was to be read. In addition, after the benediction, a bugler was to play "Taps" from the top of the dome in Saint Paul's cathedral. "Taps" is the universal indication that the day is over.
However, after the playing of "Taps," Churchill ordered another bugler to play the notes of "Reveille." Reveille is a bugle call used in the military to stir the troops to a new day – "It's time to get up! It's time to get up! It's time to get up!" were the last notes of Churchill's funeral.
When death says, the day is over, resurrection says the day has just begun. This is the promise for every believer in Christ. Be sure, it is appointed unto man once to die, but there will be a morning when we hear the call from another world. It will not be a bugle playing, but rather a trumpet sounding. And at the sound of the trumpet, the dead in Christ shall rise, and those who are alive on the earth will be changed in a moment, in the twinkling of an eye.
What a lively hope we have as believers! We are not listening for Taps (the day is over), but rather for the big Reveille (the day has dawned).
Daily Reading: Isaiah 32-34
Click the link below to share