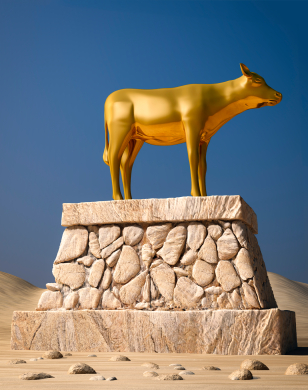 Do you have idols? Your first response will be "no."  It is "no" because we believe having idols involves living among the heathen in the back jungles of third-world countries or bowing before oddly-shaped blocks of wood and stone.  Having idols is the result of adhering to false religions or pagan practices, we contend.  But the truth is, neatly tucked away in the untamed desires of our lives, abides those things that compete with God's throne.
It could be anything…a new car, an old car, a baseball card, a job acquisition, a stamp collection, your child's sports schedule, television, other people, and the list goes on and on.  An idol is anything that we love, desire, turn to, and invest in more than we do our relationship with God.  Ironically, however, an idol, by Hebrew definition, literally means "good for nothing; worthless; having no value."  How is it possible that we could give so much of our love and affection to something that has no value over a God Who is infinitely and immeasurably good, and bestows good gifts to us?
Tear down those shrines in your heart.  Rip the curtain that secretly conceals those false gods.  Turn over the tables of idol worship and denounce anything that attempts to usurp the authority of God.  He is jealous for you; be jealous of Him.
Daily Reading: Matthew 24-25
Click the link below to share