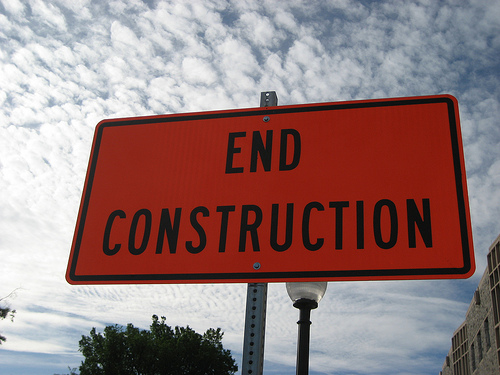 "The greatest gift you can give anyone is your own personal development" – Jim Rohn
     Recently while preaching near Charlotte, North Carolina, I went to the Billy Graham Library.  As I walked through the larger-than-life facility, I watched videos, looked at countless pictures and artifacts, and read about the thousands of souls who came to know Christ through his ministry.  The last stop of our tour was outside the facility in the memorial garden.  And to be honest, it was my favorite part of the trip.  In the garden, Ruth Graham is buried.  Upon her gravestone are the simple words: "End of Construction –Thank you for your patience."  A plaque near the grave gave detail to the unusual inscription:
     While riding down the highway years ago, Ruth noticed a sign behind the road: "End of Construction –Thank you for your patience." With a smile, she said that these words the words she wanted on her gravestone.'
As I left the garden, I thought about the spiritual growth and development of my own life – it is a continual work in progress.  God is constantly working, molding, shaping, and constructing my life.  In that process, I fail and fall short of His glory; oftentimes at the expense of others.  But there is coming a day when the construction will cease, I will take my last breath, and once and for all, I will be the masterpiece that God has fashioned me to be.  Until then, thank you for your patience.
DAILY SCRIPTURE READING: Daniel 10-12
Click the link below to share