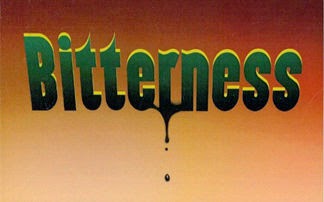 "Unresolved feelings deposit themselves in the strata of our souls, waiting for the other person to die" –Gordon MacDonald
    A man by the name of Otis Pratt was bitter over the treatment he received as a sculptor and artist. He carved his bitterness into a tombstone in the Greenwood Cemetery of Lorain County, Ohio. Since his death in 1921, many people have read these words:
"Stranger, I lived in an age when law and respect clung to the rich and shunned the poor; when money and fashion had the brains and talent went over the water for want of free schools of art supported by our government. Such were the conditions which caused my landscape to decay with me as nature shows it. Farewell."
     It is obvious that Pratt never got over the mistreatment he received as a struggling artist. His legacy was never captured in a painting or sculpture; unfortunately it was captured in bitter words engraved in marble.
     John Courson said, "This is what bitterness does: it is like taking a bottle of poison, swallowing it, and waiting for the other person to die." Otis Pratt apparently took the poison and died with a sour and unforgiving spirit. Perhaps, hiding in the recess of your heart, bitterness lurks. If so, bury your bitterness before you are buried with it.
DAILY SCRIPTURE READING: Isaiah 59-63
Click the link below to share