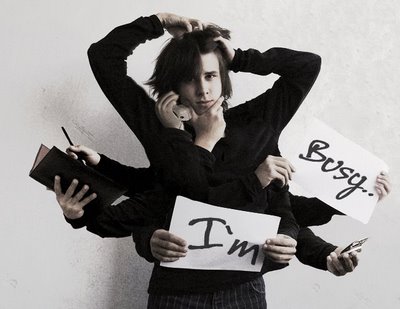 "Let us never forget that what we are is more important than what we do" –Hudson Taylor
     We are busy people, traveling on busy streets, with busy calendars, living busy lives. In the name of progress and advancement, we fill our datebooks with multiple appointments, engagements, and meetings. I certainly do not promote laziness or apathy, but I contend we are, at times, overwhelmed with too many conflicting responsibilities. This leads to physical burnout and spiritual fatigue. What are we to do if we find ourselves too busy?
B. Balance Your Life with Order. When we lack balance and order, we set ourselves up for unnecessary activities. A lot of our busyness is the result of not doing the little things properly.
U. Understand Your Mortality. Life is precious, time is fleeting. Those things we worry and stress over are really trivial in light of eternity.
S. Simplify Things. If necessary, cut some things out of your schedule. Get back to the basics. Realize that you do not have to be everything to everyone. Live for God, love your family, and let some things go.
Y. Yield Each Day to the Will of God. Begin each day by asking the Lord to reveal His perfect will for that 24-hour period. Many times we are dealing with things that were never ordered by God.
DAILY SCRIPTURE READING: Isaiah 42-44
Click the link below to share