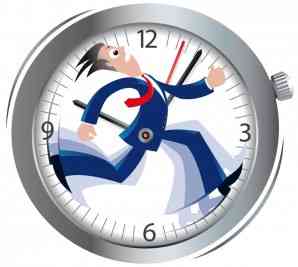 "Our problem is not too little time, but making better use of the time we have"–Oswald Chambers
     It seems like everyone is constantly on the move these days. We go from one stop to the next without blinking an eye. We hurriedly check items off the proverbial list just so we can get to the next thing. Our schedules are full, our responsibilities are many, and our stress level is elevated. What are we to do when we feel RUSHED?
R- Resist the urge to do everything. You are only one person and you cannot do it all. If you juggle too many things, make some cuts.
U- Undertake assignments that glorify God. Abide within your calling and vocation; and whatever you do, do for the glory of God.
S- Schedule your calendar with eternity in view. Don't crowd your datebook with trivial and meaningless events. Keep your affection on things above, and your calendar will appreciate you for it.
H- Hurry up and get some rest. I certainly do not promote laziness or lethargy, but sometimes you need to step away from the hustle and bustle and get some rest and relaxation-Jesus did.
E- Energize your spirit through a devotional life. Nothing revitalizes the soul like a fresh encounter with God. Rise early and rise often to meet the Lord.
D- Delegate some tasks to others. Ask others for help, especially if you are in leadership. Utilize your team for the most efficient results.
DAILY SCRIPTURE READING: Proverbs 24-26
Click the link below to share