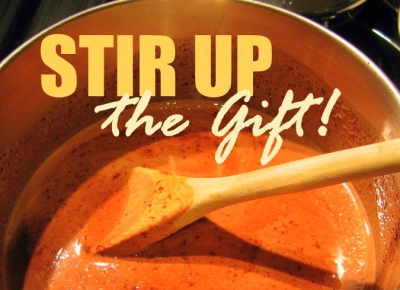 "Our chief want is someone who will inspire us to be what we know we could be"–Ralph Waldo Emerson
     In 2 Timothy, the apostle Paul reminded his young protégé to "stir up the gift of God that is in you." Timothy had been facing some very difficult situations as a young pastor. He grew discouraged and disheartened by the false doctrine and worldly tendencies of his congregation. By all implications, it seemed as though Timothy was tempted to leave his pastorate and pursue other options.
To say the least, Timothy was shaken. He was shaken by the failures of others and the fear of his own inabilities. You and I can certainly relate to Timothy's plight. When you look at the condition of the world, the apathy of the modern church, and the prevailing wickedness of society, it is easy to get shaken. But the words of Paul serve as a reminder to us all: we are not to be shaken, we are to be stirred!
The catalyst for our stirring is none other than the gift of God. This "gift" refers to the calling of God placed upon Timothy's life. His calling was confirmation enough. However, it was up to Timothy to "stir it up." If you are disheartened in this hour, remember, God has called you to a specific purpose. Every now and then you should remind yourself of God's power in your life, and realize the only thing that stands against your fear is the call of God. When it feels like you are being shaken, remind yourself to get stirred!
DAILY SCRIPTURE READING: Proverbs 19-21
Click the link below to share