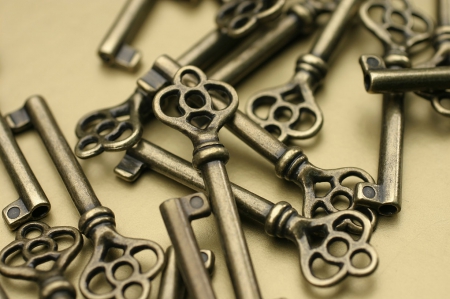 "But without faith it is impossible to please him." –Hebrews 11:6
     In a recent service, Pastor was talking about giving all the keys of our heart to God.  Immediately I began thinking about all the different rooms and their keys.  I don't even know if I have all the keys.  I think perhaps I have lost some or maybe even locked them behind the doors I don't want to open.  But why?  Why would I not want to open these doors?  Why is it so scary to think about?  I mean, God knows everything, right?  He knows what is there even if I don't.  Why do I not want to let him in those places?  I think perhaps the biggest reason is that I would have to follow him there.  I would have to face the pain and the embarrassment of those hidden chambers.  I would have to deal with the mess and do a lot of work to clean out the rooms.  Or would I?
      Psalm 51:10 tells us that God does the work.  God does the creating and the cleaning.  God makes things new and right.  Our job is to hand over the keys and follow His lead.  Sure there will be painful things behind some of those doors; there will be forgiveness we have to extend and seek.  There will be sins we have to repent and wrongs we have to right.  But God will not leave us to do these things alone.  He will strengthen and protect us through each door.  The weight of the keys will no longer be our burden to bear.  God will do the work if we can hand him the keys.
Submitted by Shawn McEver
Daily Reading: 1 Chronicles 28, 2 Chronicles 1
Click the link below to share