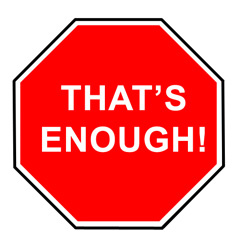 "As for me, I will call upon God, and the LORD shall save me." – Psalms 55:16
     If you had asked me if I was saved I would have quickly answered "yes." I was raised in church; God was the foundation of my upbringing. I knew all about what he had done for me. Since I was old enough to understand that, I believed it and never doubted it. But that wasn't enough. I made many trips to the altar, spent time in prayer and could quote the Romans Road, and was even baptized. But that wasn't enough.
One night while reading, I began to feel a horrible, heavy conviction. I realized that no matter how hard I had tried to fight it, I still needed to be saved! I cannot describe the feeling in my heart; I was so lost, afraid and confused. The darkness and fear of realizing my lost condition, seeing myself bound by sins chains and heading for hell was overwhelming. But that still wasn't enough.
Trembling and afraid, I bowed my head with a completely-broken spirit and through tears of guilt and shame I approached Calvary. My Redeemer was there standing ready, His arms open wide. I pleaded His forgiveness and asked to be washed in the blood of Jesus Christ. God reached down and put His arms around me with the tenderness and love only God can show. I felt true grace and mercy as never before.
I called upon God and that was enough!
Submitted by Shawn McEver
Daily Reading: Numbers 11-13
Click the link below to share