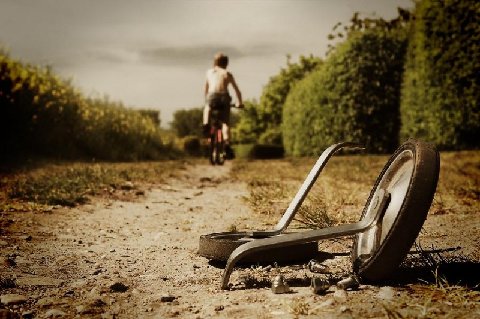 "Still I am learning."–Michelangelo
     A couple of months ago we were up at the park just above our house and my little girl decided that she wanted to take her training wheels off of her bicycle. After two evenings of my wife holding on to the bike and guiding her through the steps, she took off riding her bicycle on her own!
When the cheers and applause subsided I noticed that little pair of training wheels lying on the pavement beside my truck. This would be the first of many sets of proverbial "training wheels" to be removed from parts of her life. From curfews and courting on to marriage and the freedoms and difficulties of adulthood there is a host of guards and braces that we learn to live without. Some are exciting. Some are terrifying. These helps are very necessary to our survival but if we try to keep them on for the duration of our entire lives they actually become handicaps to us.
You may have entered a new stage of life recently and feel less stable than before. You may feel absolutely uncomfortable right now and wish the stabilizers were back in place, but just keep pushing forward. Once you get the balance of this new frontier you may realize that the initial instability has given way to an entirely more efficient Christian life.
Submitted by Zach Whitsel
Daily Reading: Titus and Philemon
Click the link below to share