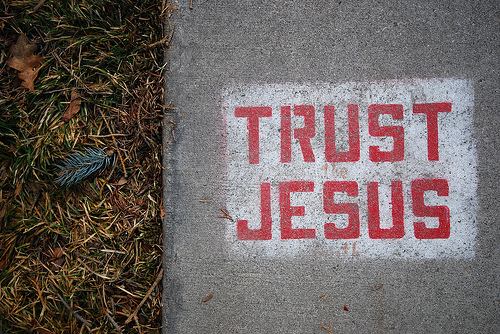 "Some trust in chariots, some in horses, but we will remember the name of the Lord our God." –David
     God rewards our first act of faith with an eternity in heaven!  Think about the day you were saved, the amount of faith that was required of you in that moment was seemingly miniscule.  All you had to do was believe in Jesus Christ, trust that he died for your sins, and accept him as your savior.  Truly, at the moment of salvation we are putting our very existence and eternity in God's hands.
Why is it then in the valleys, or when the unexpected looms over our heads, that we cannot act with that same faith?  How do we live daily with that same kind of faith?
First, we must daily develop our faith through bible reading and prayer.  We will never know the power of God's word if we don't take the time to read it.  Second, we have to use it!  What good does it do if we leave what we read on the shelf with the Bible?  Lastly, we must trust Jesus.  We all have a past full of sins and failures, but that same past is also full of forgiveness and mercy.  We should not let the past hold us back, but we should take time to remember it because it will remind us that Jesus has never once failed us.  And we must always remember all of God's promises.  Our Bible, from Genesis to Revelation, is full of God's promises, and just like salvation, all we have to do is claim them. Aren't you glad to know that we can trust Jesus!
Submitted by Shawn McEver
Daily Reading: 2 Timothy 1-4
Click the link below to share