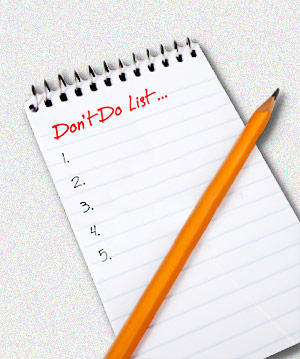 "Passion costs me too much to bestow it on every trifle" –Thomas Adams
     If you are like most people you have a To-Do List.  You may not officially write it down, but in your mind you have items that you feel must be done on a day-to-day or week-to-week basis.  Perhaps even today you feel the mounting pressure of particular things that need to get accomplished.  I personally would not be able to function without having those things listed out in front of me; it is how I operate.
Sometimes the list gets long and overwhelming.  I often look at those items and feel like I will never get to the bottom of the list.  If not carefully guarded this can bring anxiety and angst; that is why I propose having a To-Don't List.  Yes, a To-Don't List.
On my To-Don't List I have a few reminders: Don't Worry, Don't Fear, Don't Try to Please Everybody at the Expense of Personal Health, Don't Get Frustrated, Don't Avoid Family Time, Don't Try to Do Everything by Yourself, Don't Allow Satan to Hinder You, Don't Forget to Turn Over Your Problem to the Lord.  Don't Go through the Day Without Spending Time with God.
Go ahead, make your list today of what needs to get done, but remember there are some things that should be on your To-Don't List.
Daily Reading: Jeremiah 23-25