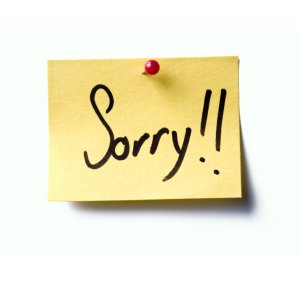 "You cannot repent too soon, because you do not know how soon it may be too late" –Thomas Fuller
     One expectation I have for my children is for them to keep their rooms clean.  This is simply a lesson in stewardship.  I try to teach them that the room belongs to God (along with the rest of the house), and that it is our responsibility to take care of God's possessions.  Does this approach always work?  Most of the time, but they are kids.  So the other day when I noticed an unclean room, I questioned the guilty party.
While running outside to play with the neighbors, he quickly responded by saying, "Sorry, dad," and ran by me with all intention to carry on without further questioning.  I will spare you the details of the rest of the conversation, but one thing I will say is that God used the situation to convict my own heart.
"Sorry, dad" in a flippant manner isn't true repentance; but many times that is what our heavenly Father gets from us.  He questions us about unclean areas of our lives only to find us hurriedly running off outside to do something else.  We may say, "Sorry" but we are not interested in doing anything about it.  When we are caught, we give him some lame excuse, and proceed to carry on without any change.
Kevin DeYoung says, "Most of us are content with regret.  We just want to feel bad for awhile, have a good cry, enjoy the cathartic experience, bewail our sin, and talk about how sorry we are.  But we don't want to change."  Don't just say "sorry," start cleaning!
DAILY SCRIPTURE READING: Deuteronomy 30-31