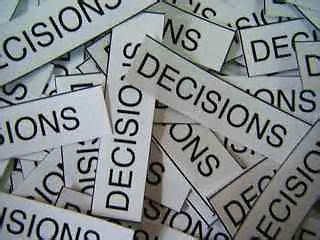 "Choose ye this day whom ye will serve… as for me and my house, we will serve the Lord" –Joshua
The most gut-wrenching, head-splitting moments in my life have been those times when I tinkered back and forth on the edge of a decision with hesitant and melancholy momentum.    James declared in his letter, "For he that wavereth is like a wave of the sea driven with the wind and tossed…A double minded man is unstable in all his ways" (James 1:6-8).
I must admit: I have been that double-minded man.  I am not speaking doctrinally, I am speaking practically.  I have been tossed on life's sea while desperately riding the ship called Uncertain.  Who among us has not been plagued by the terms "I don't know" "maybe" "we'll see" and "not sure"?  I have met the night restlessly in my bed weighing the results, measuring the outcomes, and miserably falling short of having an answer.  I have, on some occasions, caught myself adamantly looking one way while thinking of another.
James said the double-minded man is unstable.  He is insecure, timid, and doubtful about his particular path.  If you have ever been torn in the decision-making process, you understand the force of James' words.   You know what it is like to wrestle with the wave that tosses your soul from the "yea's" to the "nay's".  God wants us to be decisive as His followers.  Tomorrow we will look at four ways to be resolved in the decision-making process.
DAILY SCRIPTURE READING: Leviticus 14-15