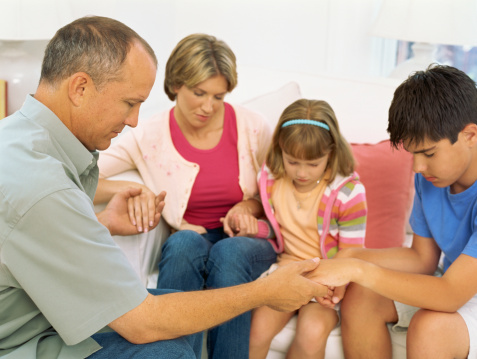 Don't just pray when you feel like it, have an appointment with the Lord and keep it" –Corrie Ten Boom
A family altar will alter your family.  One of the most important things you can do to secure the spiritual atmosphere in your home is establish a place of corporate prayer. For many families this is a difficult thing to accomplish.  Homework, ball practice, business trips, and extracurricular activities monopolize our time.  Unfortunately, some homes go weeks and months without praying together.  When constructing a family altar remember these five important suggestions:
1. Consistency.  Inconsistency stumps our efforts and limits our growth.  Place this time together with your family as a top priority and stick to it.  Do it until it becomes habitual in your schedule.
2. Communication. This is not just a time to talk with God, but a time to talk with one another.  Share your burdens and your blessings.
3. Consecration.  Incorporate praise and worship at your family altar.  Teach your children that worship is not confined to the walls of a church. Allow your home to become your sanctuary.
4. Creativity. Don't let your family altar become routine and boring. Change things up from time to time and make it interesting.
5. Camaraderie. Remember, this is about building a family that functions in the body of Christ.  The old saying is still true, "The family that prays together, stays together."
DAILY SCRIPTURE READING: Leviticus 5-7