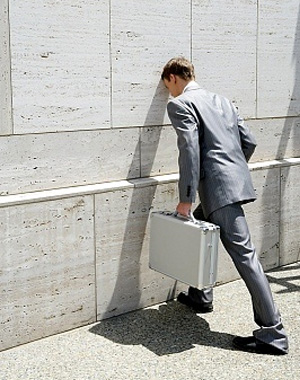 "We will draw from the heart of suffering itself the means of inspiration and survival" –Winston Churchill
It's called "the wall" for good reason. Marathon runners hit it around the twentieth mile of the race.  This is an invisible marker in the 26.2 mile run.  You cannot see it, but regardless of your experience, strength, or stamina, you can feel it.
This feeling of exhaustion occurs when the runner's glycogen levels are depleted.  The runner at that point feels like he is running out of fuel.  The body begins to tap into its fat resource for energy.  The wall brings physical fatigue, emotional distress, and psychological anguish.
Whether you are a veteran runner or not, I am sure you have experienced "the wall" at some point in your race.  You go and go and go until your energy is gone.  Between deadlines, responsibilities, and the pressures of life, you feel like you can't take another step, you are hitting the wall.
What the wall refuses to tell you is that the finish line is closer than ever before.  Even though the wall is painful and excruciating, it is short-lived.  If you keep pressing through and stepping forward you will eventually break through the wall.
Don't be weary in well-doing.  Look pass the wall, and see the finish-line.  Pace yourself, and get some rest from time to time, but don't allow the wall to block your path to victory.
DAILY SCRIPTURE READING: Exodus 33-35