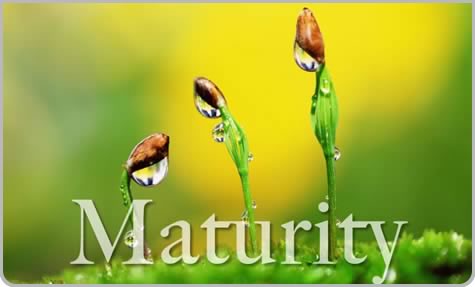 "Everyone thinks of changing the world but no one thinks of changing himself" –Leo Tolstoy
Spiritual maturity seems to be a fleeting goal among modern Christianity.  In the pursuit of being relevant, we have left behind the virtuous attributes of spiritual formation.  Perhaps we shun such lofty aspirations because we fear what others will think.  We may believe that maturity is an objective too difficult to obtain.  Or possibly, and perhaps most dangerously, we are afraid of change.  Steve Farrar said, "Perpetual adolescence is the curse of modern culture.  Everyone wants to be young instead of mature."
The apostle Paul told the juvenile church at Corinth, "When I was a child, I spake as a child, I understood as a child, I thought as a child; but when I became a man, I put away childish things" (I Corinthians 13:11).  The prevailing problem in this post-modern world is that we have pushed back the timeline of adulthood.  When are men and women to become men and women?
Maturity seems to be an antiquated quality only to be pursued by our grandparents and serious clergymen.  Therefore we diminish its value and aim for less.  We play with our toys, mark on our walls, and expect someone else to feed us when we are hungry.
Because of its rarity, we have few barometers that measure spiritual growth.  Tomorrow we will discuss a few attributes of the spiritually mature person and what it means to grow in the grace.
DAILY SCRIPTURE READING: Genesis 32-34
(Follow the Link Above for Scripture Reading)